Trigwell Cosmetics, established by the renowned MUA Zoe Trigwell, has caused a sensation in the beauty industry with its lineup of products that have taken social media by storm. With an astonishing million of views on TikTok, their cult-favorite offerings, including the iconic Velvet Powder Puff, have become indispensable items in countless makeup bags.
Embracing the philosophy that high-quality makeup and cosmetics should be accessible to all, explore the cherished products by Zoe Trigwell that are ideal for curating the ultimate summer beauty kit.
For a flawless complexion under the sun, meet the sensation: The Velvet Powder Puff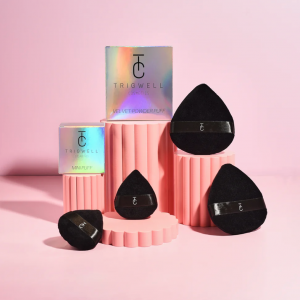 Trigwell's viral Velvet Powder Puff has swiftly become a beauty essential, often selling out within 24 hours of restocking. This "TikTok made me buy it" gem is proven to minimize the appearance of pores and shine, leaving your skin flawlessly matte at all times.
Endorsed by the likes of Lizzo and makeup artists for Jennifer Hudson, these powder puffs have earned the title of a "miracle product," bestowing an "airbrushed" finish on the skin. Social media is abuzz with praise for these velvet puffs, amassing over 4 billion TikTok views for Trigwell. Available in mini and full sizes, both options are budget-friendly, coming in at under £15 for a duo.
Discover the mini (£9.99 for two) and full-sized velvet puffs (£13.99 for two) for purchase online.
Achieve the sun-kissed look of summer with the versatile must-have: Cheek and Eye Blush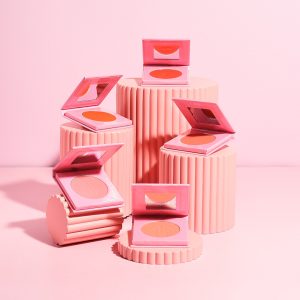 If you're in search of a multipurpose product for both cheeks and eyes, Trigwell's blushes are the ultimate two-in-one solution. Highly pigmented and effortlessly blendable, these blushes offer five stunning shades ranging from delicate rose hues to captivating sunset tones. This holy grail product captures the essence of summer all year round, making it a perfect addition to any makeup collection.
Strawberry Lemonade: Introducing the ultimate pretty pink blush for adding a subtle pop of color to cheeks and eyes. Strawberry Lemonade, the softest shade in our collection, imparts naturally rosy cheeks for a fresh, radiant look.
Sunset Sally: This best-selling pink blush creates a captivating flush of radiant sunset color. With intense payoff and seamless blending, it's lightweight and buildable for a subtle or more vivid finish.
Tropical Like Its Hot: Embrace the warmth of sun-soaked evenings with the shade Tropic Like It's Hot, a vibrant orange blush. Effortlessly build up this creamy powder blush to achieve your desired look, whether it's a gentle flush or a bold finish.
Bellini Baby: A dreamy rich pink, Bellini Baby offers a charming "just stepped out into the cold" cheek. It's a statement shade that remains buildable.
Burning Up: This highly pigmented and effortlessly blendable blusher in a deep orange-red shade is perfect for darker skin tones.
Our Trigwell Cosmetics Cheek and Eye Blushes, designed and adored by professionals, infuse color into your cheeks for a radiant everyday look. Each cheek and eye tint is priced at £10.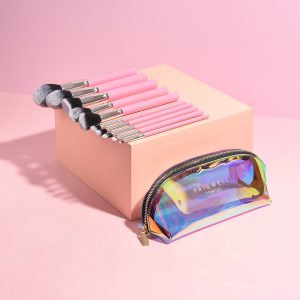 The essential toolbox for makeup artists and enthusiasts alike – 10 Piece Brush Kit: Brushes are the cornerstone of any makeup application, making investing in quality tools essential for achieving a flawless finish. Trigwell's 10 Piece Brush Kit, encompassing face and eye brushes, caters to both novices and pros, providing all the necessary tools to create a diverse array of full-face makeup looks. Valued at £35, you can acquire this collection of professional-grade brushes for just £20, complete with a charming holographic pouch for storage.
You can shop the full collection of Trigwell Cosmetics now at trigwellcosmetics.com or check Trigwell out on TikTok  and Instagram at @trigwellcosmetics