A wonderful collaboration and initiative between Barbie and The European Space Agency has recently launched. This collaboration is part of the Barbie Dream Gap Project , an on-going initiative with the goal of levelling the playing field for girls globally, to further inspire girls to become the next generation of astronauts, engineers and space scientists.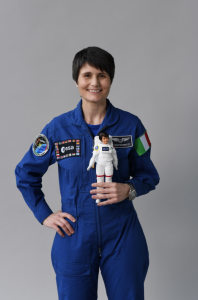 This news came after, Samantha Cristoforetti, the only active female astronaut in Europe, was presented with a one-of-a-kind doll in the likeness of the ESA astronaut to inspire girls throughout Europe.
Cristoforetti is an aviator, engineer, astronaut and is the first Italian female crew member of the European Space Agency:

"This collaboration with Barbie will help young girls and boys to dream about their future without limits."

Isabel Ferrer, European Director of Marketing for Barbie, said:

"We are proud to launch this collaboration with the ESA with a clear goal: to inspire girls to become the next generation of astronauts, engineers and space scientists. Barbie has always shown girls that they can be anything, giving them the opportunity to interpret different roles through play and embark on countless number of careers encouraging imagination and self-expression. We know how important it is for girls to have role models and this new ESA collaboration helps us to take this to an astronomical new level."
In addition to Barbie's successful YouTube vlogger channel encouraging and inspiring young girls, there will be kids-targeted content on highlighting Cristoforetti's achievements and as the 50th Anniversary of the Apollo 11 Moon-landing approaches, a series of motivating new short-form videos aimed at parents and young girls will be released to kick off the collaboration, showing Cristoforetti welcoming girls from the Germany, UK, France and Italy into the ESA European Astronaut centre in Cologne, Germany. 
This programme is part of the brand's commitment to honour women who are breaking boundaries to inspire the next generation of girls and it is an exciting and inspiring initiative which is capturing the hearts of young girls everywhere.  What a wonderful collaboration.
You can find more information about The Barbie Dream Gap project here: https://barbie.mattel.com/en-us/about/dream-gap.html