Searcys' at The Gherkin and St Pancras Champagne bar are about to be transformed into two summer havens.
The Glasshouse, in partnership with Perrier-Jouët Champagne, is bringing nature to life in the heart of the City. It's set to be a truly Sky-High botanical experience infused with exotic flowers and plants creating the illusion of a conservatory. Guests can take in the wonderful views of the City from floor 40 whilst enjoying Champagne pairings by Perrier-Jouët, a botanical gin cocktail menu, a seasonal menu celebrating the best of British produce, exclusive private dining experiences and live entertainment.
For something a little more private, Searcys and Perrier-Jouët have transformed one of the Gherkin's five stunning private dining rooms into a pocket version of the Glasshouse. Including The Table of Wonder, a unique installation featured in the centre of the room which will showcase a selection of plants and flowers inspired on the tastings notes of different Perrier-Jouët cuvées. The experience can be explored by parties of all sizes, celebrating every occasion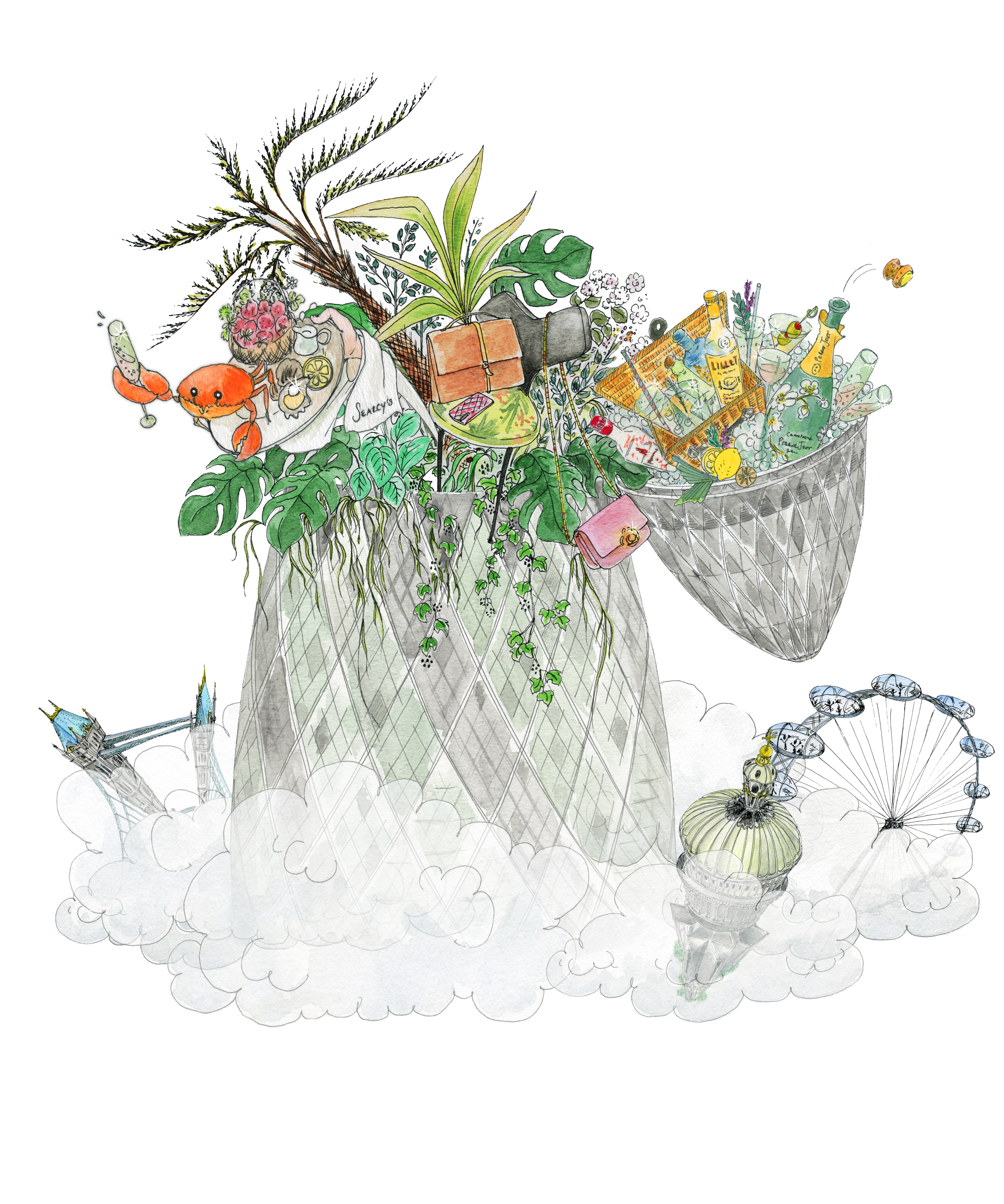 And this summer of upcoming events doesn't just stop there. To get truly immersed into the sensation of summer, St Pancras by Searcys' summer pop-up takes inspiration from The Art of Travel, transforming Europe's longest Champagne Bar into London's most stylish pre-holiday destination. Enjoy a glass of champagne or a brand new adventure with The Art of Travel Afternoon Tea, plus menus that pay homage to no less than twelve much-loved European cities and holiday spots.
The Art of Travel pop-up marks the second stage of summer celebrations at St Pancras, with each of the twelve private booths in the Champagne Bar being transformed into a different European city destination. Each booth will be decorated in pastel colours displaying their correspondent city map, with signs to each destination presented in a tasteful and pared back style. And for an exclusive experience in Champagne tasting, guests are invited sit at one of the twelve booths and push the famous "Press for Champagne" button.
To add event more authenticity and unique atmospheres into the mix, Globe-Trotter will partner with Searcys to create an atmosphere of timeless sophistication and style with a display of the brand-new Riviera collection.
Running From 15th July to 1st September
The Art of Travel pop up at St Pancras Champagne Bar by Searcys 
Afternoon tea menu: £26 book
Tasting Trio of Veuve Clicquot: £27
Cocktails, food menus and tickets here
The Glasshouse at the Gherkin
Perrier-Jouët Masterclass at the Glasshouse: from £40 per person, minimum of 6 guests
The Table of Wonder events packages are available online.