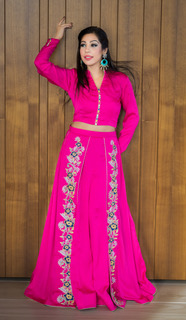 Naurah USA is an Indo- Western Ready to wear and Custom Design line launched by Ayesha Khanna who is a well known choreographer and the Founder & Director of Bollywood Funk NYC Dance school. The brand was launched in 2017 with the vision to expand and diversify from the original Indian Couture line based in India since 2001.
Having lived in New York for over a decade but with her roots in India, Ayesha dabbled with the desire to create a brand that fuses her love for fusion , whether it be in dance or fashion. She realized that the general perception about Indian clothing is that it is heavy and can only be worn on occasions such as weddings/ festivals. As an entrepreneur living and working in nyc, she felt most women she met , chose to stick to dark colors and western ready to wear brands limiting traditional outfits to those "once a year" festive occasions only. For years, she yearned to dress in beautiful outfits that were rich in color and design but were practical for someone living in the US. She felt there was a gap that needed to be filled . After years of dabbling with this idea, she chose to trust her creative instincts to create a brand for the passionate, inspirational women of today who are always hustling. A clothing line that was beautiful, unique yet wearable on ANY occasion!
Our Process- Naurah focuses on creating niche pieces customized for their discerning clientele. Inspired by the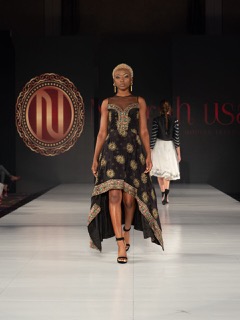 collections that were exclusively privy to the royalty and royalty alone and thoroughly researched from the archives to absorb the best from the past, these then were fused with the modern trends to create designs that have caught the imagination of the fashion conscious. Hence our tag line – "Traditional Threads. Modern Trends" At Naurah USA "less is more" is the philosophy to life with a tr
aditional weave that is a refreshing contemporary take on classical Indian silhouettes. The modern woman would rather dance the night away in these feather-like light apparels and still feel special. In NYC, where Black is the color for a night out, we choose to present a colorful yet stylish approach to dressing up. Why do we have to blend in, when we can stand out? We love to use traditional staples like goergette, chiffon, chanderi, brocade, silk, and cotton but give them a signature and a fresh treatment so the clothes don't fall short on the fun and whimsical factor. Our mission is to make our customers feel unique in these garments. Looking good starts with feeling good and that is what we love to focus on while putting together a dream outfit.Like we say to our clients, Make EVERY DAY an occasion to make a style statement.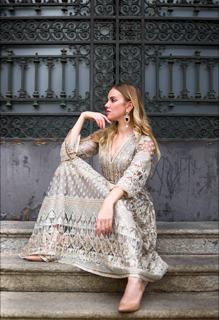 Each design we create, can be customized to some extend keeping the clients preferences in mind. We want customers feeling proud wearing a piece that is exclusively made for them. With this goal in mind, we strive to make every version of the original design a little different, better, lets just say more "You".
To find out more about Naurah USA, make sure you visit their
website
and check out their social media handles below!