A unique and smart boutique hotel choice that offers a private paradise for sixteen guests are leading the way in terms of expert santisation and COVID health and safety
When you arrive at The Great House Antigua you will soon wonder why you would ever want to leave their picturesque and unspoilt rural grounds and tropical paradise.
"What a complete gem. Truly a treasure for Antigua.' Cherrie Osborne, Director of Tourism UK & Europe | Antigua and Barbuda Tourism Authority
The Great House Antigua is a less known destination due to its micro boutique stature, with a 16-person occupancy with private cottages and spacious suites. This contributes to its excellent COVID health and safety protocols. It allows personalised service for every individual guest. Surrounded by a 26 acre tropical oasis with no outside interruptions and renowned for its replenishing breeze.
"The Great House could not be better described by its title – 15 years of annual visits to this wonderful island always rewarded with beautiful scenery, beaches and kind people but none more so than here at The Great House, and none more entertaining and enthralling. We will cherishing the memories until we return."
Guests Stella & Richard
It's a bubble destination like no other for many reasons starting with the families PPE manufacturing connection with BCB International that steams 165 years of dedicated expertise and service with keeping people safe in challenging environments supplying innovative personal protective equipment. BCB International and The Great House Antigua have given donations of masks and sanitisers to groups in need such as Red Cross, St Johns Hospice, Defence Force, local police, and schools.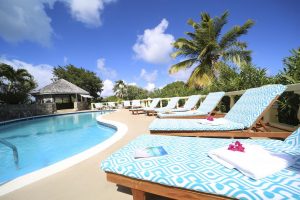 Here are the key factors that The Great House Antigua employ to keep guests and residents safe :
Members of staff live on site, which also ensures minimal external interactions or virus threats
With only 8 suites there are never crowds of people when getting breakfast, no sun loungers within touching distance of another hotel guests and table service at all times
All services are within the grounds including restaurant, bar, room service and classes and retreats
If guests want to explore the rest of the island all excursions which The Great House can arrange are certified by the government COVID protocols, including COVID certified taxi drivers to get you to and from your excursion
Our staff all 'check in' before coming to work daily, with temperature checks and wear masks at all times when on-site
The Great House is government-approved for COVID certification meaning guests do not need to quarantine on arrival at the hotel.
Full PPE sanitizer and masks are offered throughout the hotel, grounds and rooms for guests use
All staff are trained in COVID prevention and the hotel employs a strict 'Peace of Mind' cleaning protocol
The Great House Antigua can also be booked out as a whole villa, for reuniting with friends and family, or for directors and corporates that need a retreat to escape COVID gloom and get a fresh perspective on their business operations after a challenging time. All meals are included with a private chef and weekly exercise classes.
"The Great House Antigua offers a perfect bubble for guests to take some time off after the difficult past year. We have always been known for our intimate style and offering for guests, with vast open spaces to explore or relax, and more staff on hand then guests. Our priority is guest satisfaction, and currently keeping guests safe from the virus is our prime focus. We welcome you to join us in our bubble of seclusion, safety and splendour." Gabriella Howell -Director
https://www.thegreathouseantigua.com
For 20% off use Voucher Code TravelNow to book from now up until December 2021