Pop Smear is a New York City-based electropop duo featuring the angelic vocals of Australian expat Georgia Haege and the quirky electronic sounds of American Tom Oski. The multi-talented Haege has appeared on recordings with a diverse range of artists, which include Meat Loaf, Wheatus, and Shontelle. She has also acted in numerous roles on both stage and on film including the lead role of Donna Sheridan in the North American Tour of the Broadway smash hit Mamma Mia!
Oski appeared as one of the three kings in a Christmas school play when he was 12. He won Student of the Month for this performance. kThey released their debut album, This Ain't Art, in 2011. Produced by Roger Fife (Tricky, Cyndi Lauper, Fatboy Slim), their retro futuristic sound found positive press from numerous critics. The cd is available exclusively through Lexer Music, the official online store for Erasure. After a hiatus, Pop Smear have returned with three singles: USA, 4eva!, and Old & Gray. 4eva! was remixed by Grammy winner Philip Larsen of Manhattan Clique and was featured on an electropop compilation by Conzoom Records.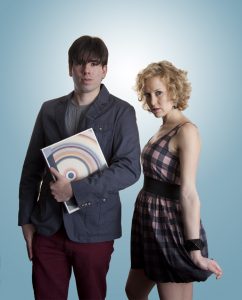 Growing out of the darkness with a swelling percussive pulsation that increases its menacing prowess with every passing beat, Pop Smear's new single "Old & Gray" simmers for a bit before erupting like a long-dormant volcano destined to blanket everything within earshot of its mightily metallic soft lead vocal reminds us that even in life's most bitter of moments, there's often a sweet silver lining to be appreciated. Pop Smear are undeniably new kids on the block right now and even though. The artistry is impressive. The instinct for orchestrating the song's percussion, vocals, and added instruments in such a way that they strike a dramatic nerve for listeners, thereby making sense, isn't something in ready supply among musicians as a whole. Instead, they stand out for this talent and utilize it with the confidence and command we expect to hear from much more veteran artists.
Electro Pop has been lacking the kind of unfiltered wallop found within this outing in recent years, but with the arrival of Pop Smear on the scene, I think we can rest assured that this won't be the only melodic headbanger we'll hear from the genre in this newly unfolding decade.
We managed to track down Tom Oski for an interview…
What inspired you to get into music?
Music is one of the few things I'm passionate about and one of the few things I can do relatively well. The latter may be disputed by some, however.
How would you describe your music?
As Anglophiles, we find inspiration from '80s synth bands like Soft Cell, Pet Shop Boys, and Erasure. We're trying to bring back that same mix of machine and soul for modern audiences.
What would you say is your recording and song writing style?
I always write the music first and then I'll try and fit the lyrics to the music. I have pages of potential lyrics, just random couplets that I'll save on my phone, that I'll refer to but I usually just end up writing something completely new. I'll then record a rough demo with my very cringeworthy vocals, send it to Georgia, and she'll work on changing or adding any vocal melodies and harmonies.
Where would you like to see your music career in 5 years time?
To be successful enough to give up my day job, but to still be anonymous enough to shop at Tesco.
Where can music fans listen your music?
At all your friendly corporate owned digital services, which can be found here: https://popsmear.hearnow.com/