Introducing Pimentae Drinks, the soon-to-be tequila jury brand on everyone's lips!
Pimentae has the power to bring that sensory recollection to life, one sip at a time. Created in 2021 during lockdown by a London-based two-women team who had the ultimate mission to re-educate and find new ways to share classic cocktails with a modern-day twist. They wanted to address the misconception that tequila is best served as a shot. Hence, Pimentae offers an alternative to bar-made cocktails, with premium bottled drinks to enjoy with friends, hassle-free.  The breakthrough product, Tommy's Chilli Margarita, offers the perfect blend of award-winning tequila, lime, agave, and chilli poured over ice.
Jalisco, Mexico, home of the agave plant, now Pimentae's humbled roots are the epicenter of their story. Mexico revealed the perfect balance between beauty and nature, opening their eyes to bewitching landscapes, unmatched culture, tantalising cuisine & mystical art that had to be shared with the world. They felt the strong impulse to bottle that magic.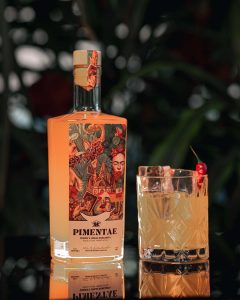 Their bottles are wrapped in bespoke designs by artist Kit Lintin. Kit is an oil painter based in London who creates bold and dynamic oil paintings that merge reality with abstraction. Inspired by surrealism, each piece she creates binds layers of contrasting narratives and vibrant imagery together, forming dreamlike fantasy worlds. The more you look the more is revealed.
Too good to be thrown away, the bottles are designed exclusively to encourage upcycling, as a brand committed to being 100% sustainable.  In a world of sugary, eco-unfriendly, artificial, and unadventurous drinks, Pimentae holds a distinctive and competitive edge, showcasing the magic that tequila can offer with a modern-day twist, exuding luxury, exoticism, and escapism.
Added to it, Pimentae Drinks has joined the list of Bronze Category Sponsor at the 10th Annual National Reality TV Awards taking place on the 22nd of July 2021 at Porchester Hall, London
"Pimentae Drinks are thrilled to sponsor this year's National Reality TV Awards.  We (over) indulge in many of the programmes ourselves & can't wait to be involved in such a celebrated industry.  Hopefully, this is one of many more exciting partnerships with the National Film Academy."
Check out their Website | Instagram for more info