Based in the UK, Sheffield, LDUK beauty is a high-end beauty brand. The founder, Grete Himberg, has over 10 years of experience in the beauty industry and a variety of accolades as a lash artist, Grete knows lashes.  This is why their first LDUK beauty product that launched was strip lashes, they then branched out into what is now an ever-growing beauty brand.
As well as founding LDUK beauty, Grete also founded the successful eyelash extension brand – Lash Dolls UK in 2018. Lash Dolls was created to offer premium quality, great value lashes to lash professionals across the world. Customers from around the world love Lash Dolls UK's range of lash adhesive, lash extensions, tools and accessories. This passion for luxury products, at a great value, then transferred over into LDUK beauty.
The foundation of LDUK beauty is to sell luxury products but at an affordable price. The team puts their heart and soul into their brand and prides themselves on being inclusive, relatable, and available. They believe there should be no restrictions when it comes to beauty, and their main objective is to make their brand to resonate with everyone: mums, daughters, brothers, nephews… they want everyone to feel empowered and beautiful wearing LDUK beauty!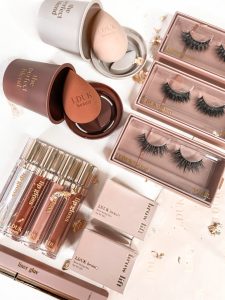 LDUK Beauty only sells products they know are the best of the best, and that they truly believe in. Their products represent them, so why would they bring out something that they didn't love themselves? Their team is made up of driven, innovative, and creative individuals, so you can put your full trust in LDUK beauty, and know that any new product they release will be as amazing as the last.
"LDUK beauty is so excited to be sponsoring the 10th Anniversary of the National Reality TV Awards. As a beauty brand, we love seeing reality stars trying new styles and setting trends and we all love a bit of reality tv drama don't we! We are so honoured to be sponsoring 'The Best Dating Show 2021' category and look forward to seeing the stars' gorgeous looks on the night" – Grete Himberg, LDUK beauty founder. 

For more information on LDUK Beauty, visit their Website | Instagram