The Fashion industry is multi-billion dollar global industry with it's main focus being the business of making and selling clothes. There are obvious differences between the disciplines (ie high fashion and fashion made for the masses). However, the fashion industry encompasses the design, manufacturing, distribution, marketing, retailing, advertising, and promotion of all types of apparel (men's, women's, and children's) from the most rarefied and expensive haute couture (literally, "high sewing") and designer fashions to ordinary everyday clothing—from couture ball gowns to Juicy Couture-brand sweatpants. Sometimes the broader term "fashion industries" is used to refer to myriad industries and services that employ millions of people internationally.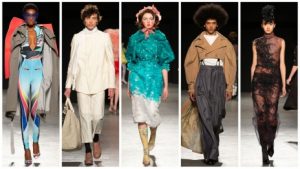 The Fashion world is regarded as one of the most integral and successful industries in the world with fashion turning over billions for brands globally. With a decade of success gone underrepresented in the global scale, there has been a huge demand for a global award show targeted at celebrating the success fashion has achieved worldwide. Introducing, the World Fashion Awards which is set to launch on the 18th of September 2019 at the Savoy London, WC1. The World Fashion Awards is set to become the number 1 prestigious global awards ceremony geared at celebrating the achievements of established and emerging fashion brands, outlets, designers, models, manufacturers, buyers and media that form the international vibrant fashion scene. VIP Invitations for the 1st annual World Fashion Awards reached our desks this morning from the prestigious World Fashion Awards committee ahead of the scheduled event. The nominations for the event are due to be announced on the 10th of June 2019 for public voting to commence. Over 15 countries are due to be involved this year with 100 designers and 75 models from 20 countries taking part. The awards itself is produced by the National Film Academy, the award-winning team behind the prestigious National Film Awards UK, National Film & Television Awards USA and the British Restaurant Awards. Hence, you can expect a fantastic annual awards ceremony with lots of glitz and glamour as is expected of fashion. The awards ceremony will also act as a vehicle to raise funds for the Diamonds Children's Foundation, which is currently in Mozambique following floods and cyclone that hit the entire country. The aim is to rebuild the houses for thousands of children who have been rendered homeless and most importantly to play a part in rebuilding the schools.
One, thing is certain our fashion department at Chelsea Monthly, are already shopping for our evening dresses and suits to attend what is set to be one of the most anticipated event in the calendar.